Summary of our work
SoldierStrong is dedicated to helping American military veterans overcome disabilities and major injuries through therapy and rehabilitation.
Groundbreaking technologies have been developed that can help individuals who've sustained spinal cord injuries stand, move and walk again. However because of the costs associated with these revolutionary breakthroughs, many of our nation's military veterans don't have access to them.
That's where SoldierStrong comes in. We purchase and donate state-of-the-art technology to military veterans' hospitals around the country, giving tens of thousands of heroes access to life-changing therapy and rehabilitation advances.
Our Impact
Since 2009, SoldierStrong is proud to have made an impact in the lives of thousands of our nation's heroes.
0
%+
Donation dollars passed on to our causes
0
Spinal Cord Injured veterans now with access to our SoldierSuit
Over $
0
In medical devices donated or funded to date
$
0
in scholarship funds donated
The values that have made the United States the greatest nation on earth are unchanging: The understanding that liberty is priceless; the belief that the might of our military is capable of tackling any obstacle; the idea that we all have a personal responsibility to help not only ourselves but our fellow man.
SoldierStrong is inspired by these timeless virtues. We believe that the men and women of the United States military represent our nation's very best, and they have given us all an example to follow. That's why we've made it our mission to help veterans in the next phase of their mission, and take their next steps forward with constant support, therapy, and rehabilitation.
Today, we are proud to stand with those who have fought to not only preserve these values for generations to come—but also to show us what it means to live by them every day.
Special thanks to Rahal Letterman Lanigan and United Rentals, for helping to make this message possible. Because of the generosity of supporters like them, our military veterans continue to get the therapy and rehabilitation services they need to accomplish life's next missions.
See our new commercial message

May 23, 2018
New York Yacht Club37 W 44th St, New York, NY 10036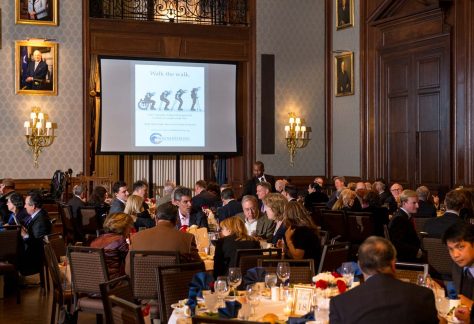 Oct 08, 2018
The Union League of Philadelphia