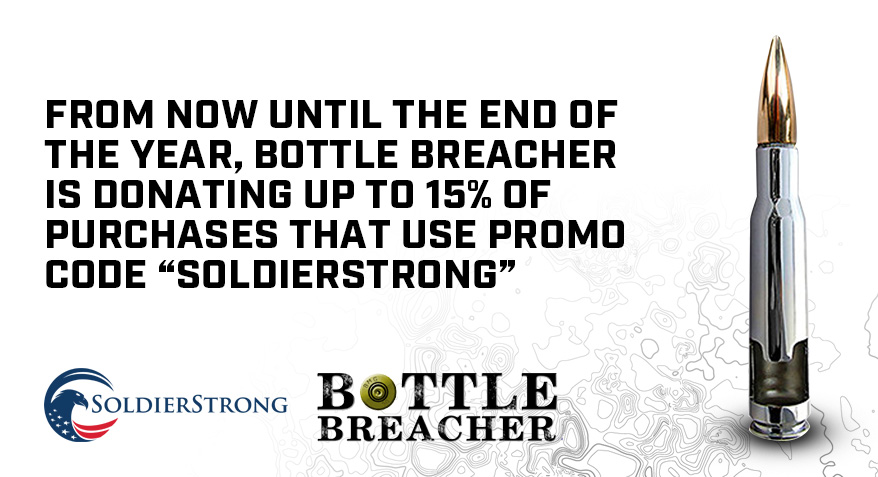 SoldierStrong is honored to announce a partnership with the Tucson, Ariz., manufacturer Bottle Breacher to provide critical state-of-the-art technology to treat veterans experiencing post-traumatic stress.
Money raised through the effort will fund SoldierStrong's efforts to donate BraveMind virtual reality software and hardware systems to Veterans Affairs medical centers. Chris Meek, who co-founded SoldierStrong after his experiences at Ground Zero on Sept. 11, 2001, said it costs $15,000 to place the BraveMind program at a single VA hospital.
"Five VA hospitals have expressed an immediate need for the technology. We owe it to our nation's heroes to ensure the VA can provide critical mental health treatment to those who have defended our freedom," Meek said.
The Bravemind system, developed by the University of Southern California's Institute for Creative Technologies, delivers prolonged exposure therapy. This evidence-based treatment method allows therapists to recreate the scene of the veteran's troubling memory in a virtual reality headset. It safely enables the veteran to relive and deconstruct that memory with the aid of a licensed therapist to better cope with the trauma it created.
Bottle Breacher owners Amber and Mike Wall said their 20 years working in the corporate world fueled their desire to own their own business and to help America's veterans. "We understand what it takes to produce meaningful results, and why it's important to support nonprofits that do the same thing. SoldierStrong produces results and changes lives with every donation," Amber Wall said. "Those are just two reasons why we're passionate about SoldierStrong's BraveMind program, which helps veterans living with PTS."
Mike Wall said their company, which specializes in .50 caliber shell bottle openers in a variety of finishes, colors and themes handcrafted by veterans, is partnering with SoldierStrong through the end of the year to donate up to 15 percent of all purchases through their website, bottlebreacher.com, that use the promo code "SoldierStrong."
Meek praised the Walls' commitment to employing veterans and their desire to give back to America's servicemen and women. "SoldierStrong is enthusiastic about partnering with and supporting veteran-focused businesses," he said. "The Walls and Bottle Breacher are having a positive impact not just on the veterans they employ and American manufacturing, but also on the community of military veterans all across the country. The same integrity and dedication that its people devote to their work will make a difference in the lives of veterans recovering from the debilitating effects of post-traumatic stress. It's a true honor to have the support of and partnership with Bottle Breacher to benefit the lives and mental health of our veterans."
To date, SoldierStrong has donated 24 BraveMind systems and other state-of-the-art medical technologies valued at more than $5.2 million to medical facilities across the country. The nonprofit's goal is to make the BraveMind technology available to veterans in all 50 states.