2,770,000 Million Americans have served some 5.4 Million deployments since the terror attacks of September 11, 2001.
Those deployments have created a significant number of relatively young veterans with mental health issues including PTS and depression.
More Vietnam veterans have been lost to suicide than were killed in combat. The post-9/11 generation is on track to match this statistic.
Every day, on average, 17 U.S. military veterans commit suicide.
To reduce that number, SoldierStrong is working to provide veterans with urgently needed options for Post-Traumatic Stress Disorder (PTSD) treatment. SoldierStrong is partnering with the Veterans Administration to offer the BraveMind program for PTSD treatment. This revolutionary virtual reality therapy program leverages cutting-edge technology to make therapy more effective and more appealing to younger generations.
Many veterans and active service members are haunted by memories of specific disturbing events that occurred during combat. Oftentimes they avoid those memories — and anything that triggers them — at any cost. That avoidance takes a heavy toll over time.
"They walk around angry all the time," said Albert "Skip" Rizzo, Ph.D., director of Medical Virtual Reality at the Institute for Creative Technologies at the University of Southern California. "They don't want to talk to anyone about it, they don't want to even admit they have a problem."
Exposure therapy, which involves using the imagination to recall the troubling event and talking through it with a therapist, is a proven form of PTSD therapy. But veterans, especially those with depression in addition to PTSD, often have a hard time willingly summoning those memories. Virtual reality therapy changes the equation and offers an innovative alternative to traditional PTSD treatment methods.
BraveMind's VR software includes 14 different 'worlds' from a crowded Iraqi marketplace to a remote Afghan village or a checkpoint in the desert to a forward operating base in the mountains. The therapist can recreate the scene of the traumatic incident in the VR headset, putting the veteran back in the moment. This type of therapy for veterans can be challenging, but confronting symptoms of PTSD can bring incredible healing.
Reliving your worst nightmare isn't easy, Dr. Rizzo calls virtual reality exposure therapy "hard medicine for a hard problem." However, doing it in a safe, supportive environment can help veterans open up about the incident and process their emotions around it. This process can help veterans begin to heal and put their PTSD symptoms behind them.
"It gets them to talk about things they've never talked to anyone about before," said Dr. Rizzo. In the end, he said, "those memories don't have the same intense, painful emotional power that they did before. Patients start to feel empowered, to feel that they got it out, and that they can talk about it."
A collaboration with the VA Innovation Center allows SoldierStrong to pool resources to help make the greatest impact possible for our nation's heroes.
Living with PTSD
For a veteran with PTSD, everyday civilian life can be fraught with challenges. Spotting a person dressed in Middle Eastern garb at a store or restaurant can generate a fight-or-flight response. Driving is especially charged for many vets. Garbage by the side of the road can trigger memories of an improvised explosive device (IED). Traveling under an underpass can bring back memories of a sniper on a bridge. "You're always looking for the next shoe to drop," said Dr. Rizzo. "That might have been a survival skill in combat, but it doesn't work so well in civilian life."
Living on edge often strains relationships and makes everyday life more complex. "Sometimes people with PTS are difficult to be around, and that's when their friends start falling away or they get divorced," said Dr. Rizzo. PTSD can alter a person's relationship with their children, too. A veteran who saw a young civilian killed in combat may not be able to dismiss the memory upon seeing their own child again.
Exposure therapy can gradually make difficult memories less harrowing and help veterans with PTSD shut off flight-or-flight mode. This allows veterans to take part in civilian life in more meaningful ways and helps them overcome the challenging symptoms of PTSD.
A "Video Game" That Heals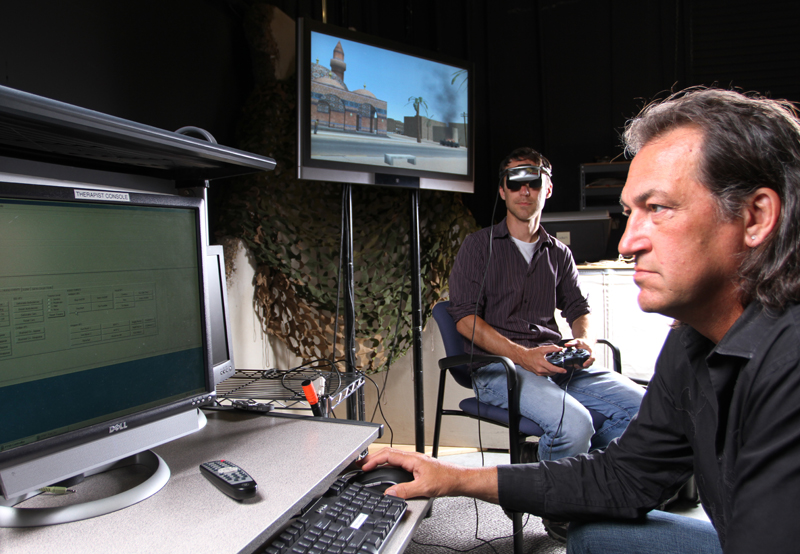 Thanks in part to the popularity of virtual gaming, virtual reality therapy appeals to vets who might shy away from traditional talk therapy. This allows veteran service organizations to deliver more engaging and personalized therapy.
A key to BraveMind's efficacy is the therapist's ability to customize the world that the patient will experience in the headset. Customizations closely match the setting of the bad memory, down to the sounds, smells, and time of day. From the control panel, the therapist can put the patient in the driver's seat of a vehicle to match the veteran's traumatic experiences. He or she can generate explosions or make helicopters fly overhead as the patient narrates the story in the present tense.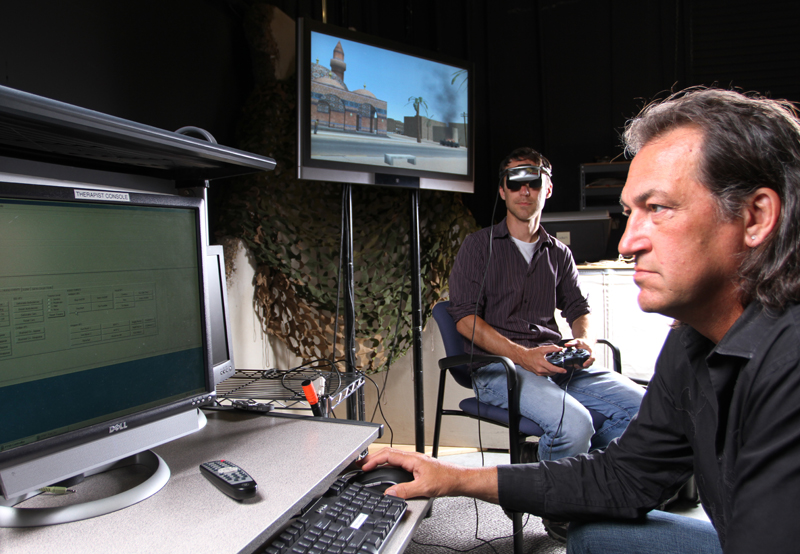 "You're completely immersed in the moment," said former Marine Chris Merkle, who tried the VR therapy after serving three years in Iraq and close to four years in Afghanistan. "You can feel it in your body when you talk, you just feel so tense. You don't get that normally unless you're in a really, really deep therapy session…[The VR] hands you your experience."
Confronting the memory head-on, over and over again, reduces the brain's response to it, so that ultimately, the veteran controls the memory and not the other way around. VR therapy allows veterans to regain control of their memories and in turn, how these memories impact their lives.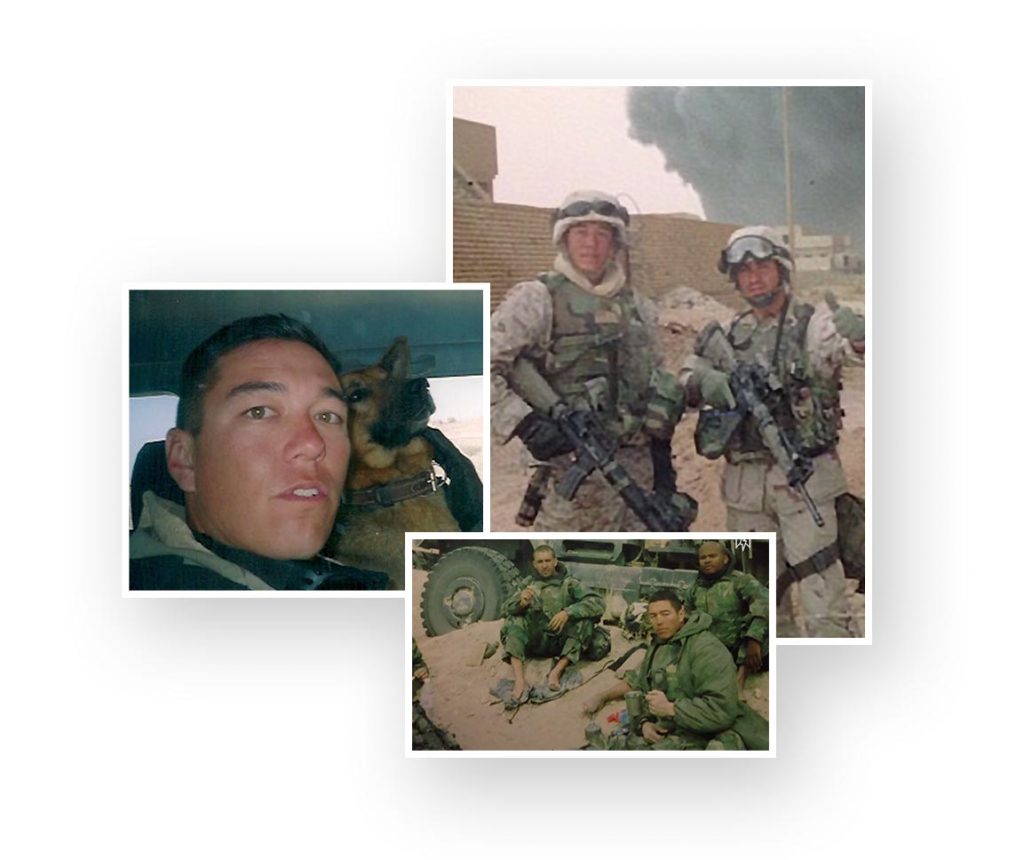 How Virtual Reality Helped A Combat Vet Overcome PTSD
Christopher R. Merkle M.A. is an advocate for veterans working to garner community support for veterans and to reduce the stigma of mental health. As a Marine combat veteran, Christopher openly challenges the stigma of mental health by sharing his battle with Post Traumatic Stress Disorder (PTSD). His story is an extraordinary example of VR technology like BraveMind having a life-changing impact on the lives of those living with PTSD.
While he is proud of his service to the nation and local law enforcement, he does not believe service members should be defined by their past. "You fought for everyone's Freedom to include our own, now fight to regain or maintain your own happiness and the American way of life."
As a nonprofit for veterans focused on providing disabled American veterans with the resources they need to take their next steps forward, SoldierStrong works to provide access to innovative therapy treatments. The BraveMind program (along with RealRecovery, SoldierRecovery, and the SoldierSuit) gives veterans the resources they need to overcome recovery obstacles.
As a veterans nonprofit, SoldierStrong's donations for veterans are only possible through the support of generous donors like you.
Current BraveMind Donation Sites