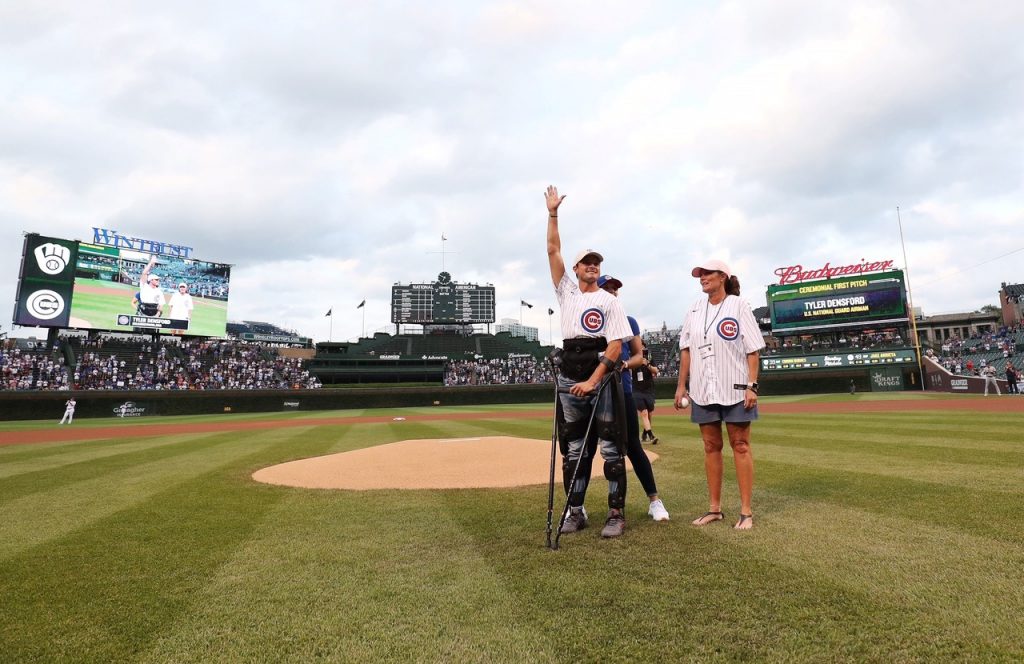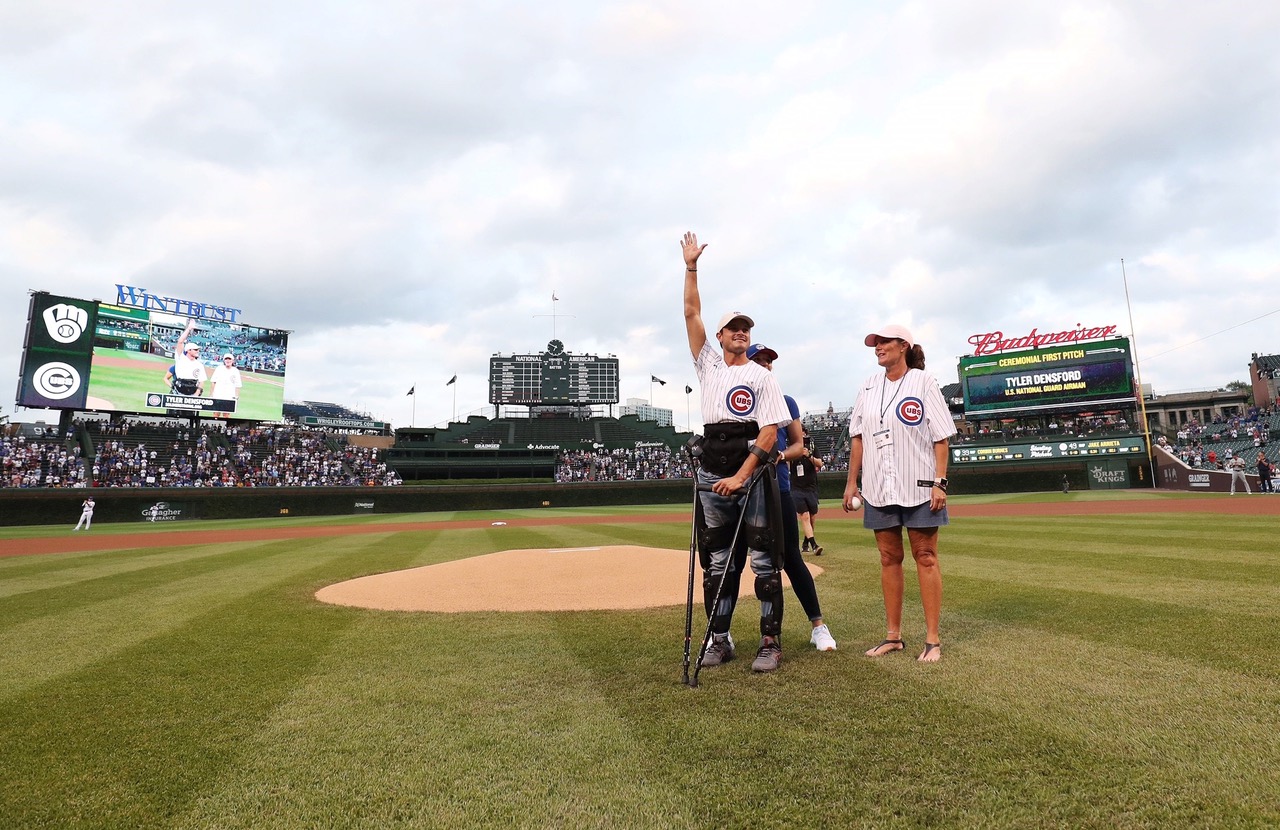 Tyler Densford was only a mild baseball fan.
But after having the chance to throw out the first pitch this week at a Chicago Cubs game against the Milwaukee Brewers in Wrigley Field, and listening to the roar of the crowd cheer for him, the paralyzed veteran is an even bigger fan now.
Densford, a 2012 graduate of Lewisburg High School who was paralyzed from the chest down in a freak 2016 helicopter training accident, was able to walk upright to the pitchers mound using an Indego robotic exoskeleton which was donated to him by a family member of the Cubs's owners.
"It was super awesome," Densford said. "I came out on a golf cart from right field. They brought me to the dugout. I stood up off the golf cart and walked from there. I told my parents it was the best night of my life."
Before finishing high school, Densford had earned his private pilot's license and went on to pursue a career in aviation as a military pilot. Following Basic Military Training, Densford served with the 155th Air Guard Unit in Memphis as an aircraft flight equipment technician.
He was on a training mission in the summer of 2016 when he was accidentally dropped from a Blackhawk helicopter. Densford fell 40 feet and was left paralyzed from the chest down with a T8 spinal cord injury.
"It was a hoist exercise," Densford said. "The medic fell out and I was attached to him. Then a seat came detached from the carabiner. It was just a series of unfortunate events."
Densford said the Indego is fairly new technology. The device is a powered exoskeleton that fits to the lower limbs. It enables those like him with spinal cord injuries to stand and walk, and allows them to experience greater mobility and a new level of functional independence.
Densford was part of a four-month program testing a bionic walking system through the St. Louis Veteran's Administration in 2020, but the study was cut short and he wasn't able to continue due to COVID.
One of the therapists who worked with him was at a fundraiser showcasing the device and met Sylvie Legere Ricketts and her husband, Todd. The Ricketts are co-owners of the Chicago Cubs, and told her that they wanted to purchase a device and donate it to a veteran. An Indego exoskeleton costs about $100,000.
Densford was one of a handful of veterans who qualified for the device, and after meeting with Sylvie Ricketts, was selected to receive a device through the national nonprofit SoldierStrong. The Ricketts invited him to throw out the first pitch at Wrigley Field.
"I am so appreciative of Sylvie and Todd Ricketts," Densford said. "I can't say enough about how generous they are and what a great host they were to my family and me in Chicago. They are some of the greatest people I have ever met."
Densford said the Indego has totally changed his quality of life. The exoskeleton has allowed him to get out of his wheelchair and walk independently.
"It's pretty neat to see," Densford said. "It doesn't completely take away my wheel chair. At this point the battery life isn't extremely long, only a few hours. And you are limited on the terrain you can go. But going to the gym and going around the walking track at the YMCA, it is really beneficial. And just to know that when I get married some day, that I will be able to stand, it is pretty emotional."
And for the record, Densford said he is proud of the fact that he did not bounce the pitch to home plate.
"I had been practicing," Densford said. "I wouldn't have lived it down if I bounced it."