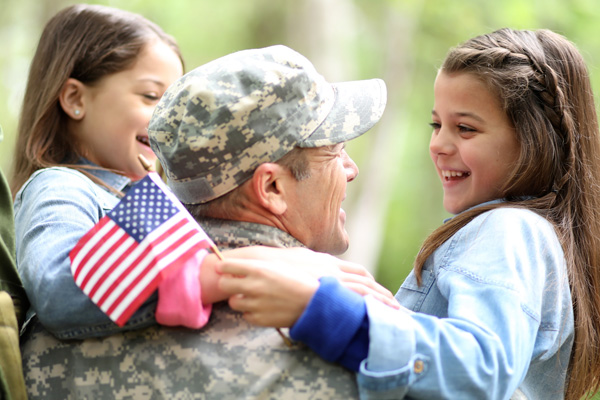 Continuing to Serve Our Communities in Life After Service
By Chris Meek
Last year the Department of Veterans Affairs released a report that found that 32% of veterans work in public service or charitable organizations. This is higher compared to their non-veteran counterparts, of which 22% work in those particular fields. Some may ask what makes veterans more likely to work at these types of organizations, but the fact that they do should come as no real surprise. It makes sense that those who choose to serve their country would find new ways to serve their communities in life after service.
There are a number of reasons that many veterans choose to serve their own communities. Many of those reasons are deeply personal. But I think there are also several positive key elements that draw a great number of veterans to volunteer or work in public service or charity and non-profit organizations. My hope is that in bringing light to some of these positive elements, other Veterans (and quite frankly, civilians as well) will be inspired to serve in similar outlets.
I have made it a mission of mine to help veterans take their next steps into life after service in my work through the non-profit I co-founded and serve as chairman for, SoldierStrong. As many veterans have experienced, it can often be difficult to transition from the military into everyday civilian life. However, volunteering, taking leadership roles within the community and serving the public can serve as an essential part of making that transition easier. It can be a good first step forward for many veterans, especially for those who are looking to give their life renewed meaning and purpose.
These types of roles also allow veterans to utilize many of the leadership and management skills that they developed during their time in the military and use them in outlets that are extremely beneficial to their communities. As many know, military capabilities are certainly applicable to other aspects of life and choosing to follow a path that allows you to harness skills learned during your time in the service can make you feel that your work in the civilian world is worthwhile and constructive.
Lastly, I would be remiss if I failed to mention the overwhelmingly positive impacts that this type of work ultimately can have on one's mental health. Work in the public service and non-profit spectrums can serve as a great launching pad for beginning to lessen depression and anxiety, as well as providing a deeper sense of identity.
Even if working directly in these fields is not feasible for you, there are still great ways to give back to your community. Throughout the past few months as our country has waded through unprecedented and stressful times, there has been a greater shift to focus on mental health and to find what it is that makes us all feel happy as a way to de-stress and gain a better sense of control over our well-being. I encourage everyone to take what it is that they love and turn it into a way to give back to your community. For example, if you love to bike then organize a community bike ride to raise money for a local charity. Or if you like to knit, consider knitting hats for premature babies at your local hospital. There are many unique ways to take what you love and find a way to turn it into something that allows you to show your love for your community and its members.
Though there are a vast number of additional positive aspects of veterans working in public health and non-profit fields that I admittedly did not have enough space to cover above, I encourage those who are interested to continue their own research and hopefully take those initial next steps to serve your communities. I am entirely convinced that the number of veterans working in public service and charity outlets will only continue to rise in the years to come. Thank you to those for your service and your continued service as well.