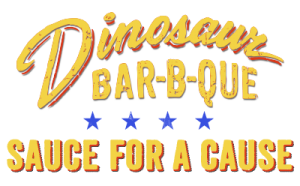 SoldierStrong was happy to partner with Dinosaur Bar-B-Que for a limited-time charity offering called 'Sauce for a Cause.' Beginning Friday, May 27th and running through June, all proceeds from purchases of the co-branded Sensuous Slathering BBQ Sauce went to SoldierStrong, which the organization will use towards the purchase of cutting-edge medical technologies to benefit injured veterans.
"This Memorial Day, we are proud to honor our service men and women as well as kick off the summer barbeque season with a worthy cause," said Chris Meek, co-founder and Chairman of SoldierStrong. "We are happy to partner with Dinosaur Bar-B-Que on this exciting opportunity."
The Sensuous Slathering BBQ Sauce sold for $5.95 and will be available for purchase in all 10 Dinosaur Bar-B-Que store locations as well as online Dino Store and SoldierStrong's website.
About Dinosaur Bar-B-Que
After years of cooking on the road for motorcycle shows, fairs, and festivals up and down the East Coast, Pit Master John Stage founded Dinosaur Bar-B-Que in Syracuse, New York in 1988. The restaurant quickly gained a reputation far and wide for serving some of the best BBQ in the country, along with a vibrant and lively atmosphere. Today, Dinosaur Bar-B-Que continues to be a recognized leader in the world of barbecue restaurants with a brand that currently includes ten locations (Rochester, NY – 1994; Harlem, NY – 2004; Troy, NY – 2010; Newark, NJ – 2012; Stamford, CT – 2012; Brooklyn, NY – 2013; Buffalo, NY – 2014; Chicago, IL – 2015; Baltimore, MD – 2015). For more information about Dinosaur Bar-B-Que, please visit www.dinosaurbarbque.com.