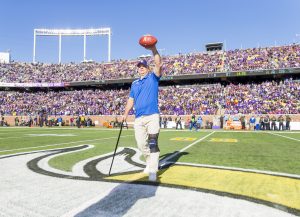 Nonprofit to Showcase How It Supports Veterans by Providing Cutting-Edge Medical Devices That Enable Them to Walk and Will Kick-Off a Text-to-Give Campaign.
STAMFORD, Conn., Nov. 5, 2015 (GLOBE NEWSWIRE) — SoldierStrong (previously known
as SoldierSocks), a nonprofit organization dedicated to providing advanced medical technologies to veterans, announced today that it will receive on-field recognition and be honored at five of the upcoming National Football League's (NFL's) Salute to Service Military Appreciation games in November. During each game, fans will have the opportunity to donate to SoldierStrong by sending a text to 80077 with the keyword "STRONG" to make a $10 donation, or keyword "STRONGER" to make a $25 donation.
SoldierStrong will highlight its work and a veteran's personal story at the following games:
Sunday, November 8th
1:00 p.m. ET – St. Louis Rams at Minnesota Vikings
TCF Bank Stadium, Minneapolis, MN
4:05 p.m. ET – Atlanta Falcons at San Francisco 49ers
Levi's Stadium, Santa Clara, CA
8:30 p.m. ET – Philadelphia Eagles at Dallas Cowboys
AT&T Stadium, Arlington, TX
Sunday, November 15th
1:00 p.m. ET– Miami Dolphins at Philadelphia Eagles Lincoln Financial Field, Philadelphia, PA
Sunday, November 22nd
1:00 p.m. ET– Dallas Cowboys at Miami Dolphins Sun Life Stadium, Miami Gardens, FL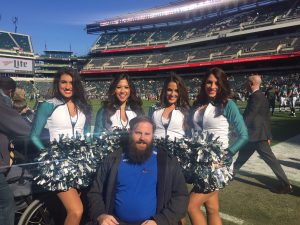 "The NFL's commitment to Salute to Service is commendable and we're very proud to be a part of it," said Chris Meek, Founder and CEO of SoldierStrong. "We're excited to kick off the textto-give campaign and to provide an opportunity for fans to help veterans take their next steps forward." As part of the Salute to Service campaign, each of the NFL's 32 teams will pay tribute to the branches of the U.S. Armed Forces. The goal of this program is to strengthen the relationship between NFL teams and the military community by honoring local military units from each branch of service on game day. Teams will wear decals on their helmets with the insignia of the U.S. Armed Forces (Air Force, Army, Coast Guard, Marine Corps and Navy), and will highlight the relationship between clubs and local military units in broadcast and online media throughout the campaign. This season, for every point scored during the NFL's designated Salute to Service games, the league will donate $1,000 to its three core, military non-profit partners.
All NFL games this season will be broadcast on television on various stations, and online at NFL Redzone, http://www.nfl.com/redzone. For a full list of Salute to Service games this season, please visit: http://www.nfl.com/news/story/0ap1000000088711/article/nfls-32-designatedsalute-to-service-games.