FOX News – America's Newsroom: Martha MacCallum accepts award from SoldierStrong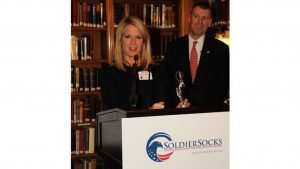 On December 8, 2014, SoldierStrong held its second annual event and inaugural Awards Ceremony at the Union League Club of New York. At the event, the organization donated an Ekso Suit to the James J. Peters VA Medical Center located in the Bronx, NY. SoldierStrong also announced it had selected Cambridge, MA-based Myomo, a supplier of myoelectric orthotics, as its provider of arm braces to donate to veterans with paralysis in their arms due to TBI and other causes.
SoldierStrong also awarded its 2014 Commitment to Service Award to FOX News anchor Martha MacCallum and the 2014 Corporate Leadership Award to Stamford, CT-based United Rentals, Inc. The awards were in acknowledgment of both Ms. MacCallum's and United Rentals' continuing support of helping returning veterans tackle the challenges they face here at home.