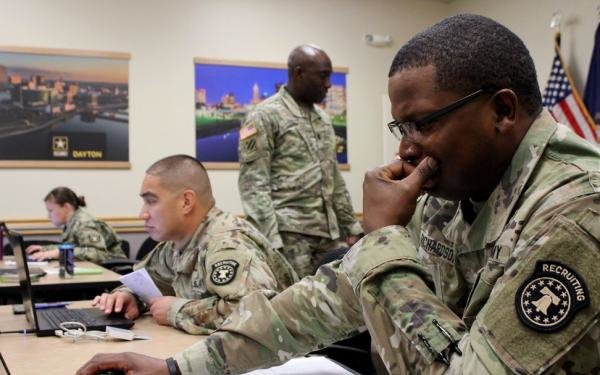 Cutting The Red Tape Surrounding Veteran Employment
By Chris Meek
The Labor Department's Bureau of Labor Statistics reported that the military unemployment rate fell from 6.4% in September to 5.5% in October. As those stats hopefully continue to trend downward in the coming months, leaders and communities across the country cannot lose sight of the fact that there are still a number of veterans that continue to face unemployment as the pandemic rages on and winter looms.
Dan Goldenberg, executive director of Call of Duty Endowment, recently cited "red tape" as one of the most consistent causes of current unemployment experienced by veterans. According to Goldenberg, a pervasive example of that red tape is state licensing requirements for civilian jobs in a number of key professions. Licensing requirements can hamper the attempts of veterans to successfully transfer skills obtained in the military to the civilian workforce. Careers where licensing requirements are most common include health care workers, skilled tradesmen, manufacturers, real estate agents, educators, truck drivers and a number of other respectable and valuable professions.
Not only do we owe it to our nation's veterans to remove the "red tape," where it just makes sense, surrounding several career fields but it makes practical (and economic) sense as well. Afterall, why would states not allow men and women who served as medics for our nation's heroes overseas to continue to provide medical services to civilians here at home? Sure, the act of providing medical services on the front is not wholly the same as providing medical services to those visiting the ER, but still the core concepts remain the same and should be leveraged when possible and practical, especially during a time when health care practitioners are in short supply and high demand.
Service allows individuals to develop a unique set of not only leadership skills but a plethora of additional skills that can be applied to a number of professions. It's simply a missed opportunity not to take advantage of the skills that veterans have to offer from their time in service – it not only hurts them but hurts our country and industries.
So what exactly can be done to cut red tape for veterans? As with so many things, it will require a synergistic effort from state and local governments, nonprofits, national corporations and even local businesses.
Political leaders can follow the Governor of Michigan's lead by enacting state legislation that allows veterans and their families who hold out of state licenses to automatically qualify for in-state licensure. This is a first step but by no means the only action that can or should be taken. Perhaps state's can also enact legislation that would allow licenses to be waived for veterans with active duty experience equivalent to work in specific career fields. And if they aren't already, fees associated with obtaining occupational licenses should be waived for veterans in each state. Call your governor's office, local representatives and senators today to request that they look into the logistics of enacting similar measures in your state.
With the government, even on the state level, this process obviously takes time. However, there are steps that can be taken in the meantime to help make finding employment easier for veterans. The HR departments of national corporations can make a commitment to better educate themselves on the benefits of hiring veterans and how to go about doing so. If you think your workplace is missing the leadership and skill sets of veterans, speak up and let them know! Change only happens through action and letting HR know that they may be overlooking a key population that could serve to elevate the company will hopefully result in a precedent for considering more veterans for future employment.
Lastly, it's important to remember that a number of veterans looking for employment, particularly those who enlisted in the military directly after high school, have never searched, applied or interviewed for a job as a civilian. I would encourage the many successful programs and nonprofits that provide veterans with employment resources to place an extra emphasis on helping veterans to convey and verbalize to potential employers how exactly their success in the military can translate directly to a successful civilian career when preparing for interviews.
Though some action items may be small or slow-going, with a little patience and a lot of persistence they collectively could pay dividends in the future.