What is the SoldierSuit
SoldierStrong has partnered with some of America's most advanced medical technology companies to make their devices accessible to our returning veterans. The SoldierStrong SoldierSuit is comprised of several state-of-the-art rehabilitation and powered prosthetic technologies that address a variety of combat and non-combat related disabilities.
Used together or on their own, the SoldierSuit components help their recipients live fulfilling, empowered lives long after their service to our country is over. Eligible veterans are either fitted and provided their own prosthetic or in the case of exoskeleton devices; they are prescribed rehab time in equipment; receiving several hours a week of spinal, stroke or Traumatic Brain Injury (TBI) therapy.
SoldierStrong is open to partnering with new companies to tackle other injuries and expand the SoldierSuit mission of transforming lives. New partners must meet three category demands which are reviewed by our medical advisory board.  One, current insurance coverage and/or access must be limited. Two, clinically tested outcomes must be transformative in terms of recipient quality of life improvement. And three, a partner company must provide the device at or near cost.
An ancillary additional outcome of the SoldierSuit program, in fact, benefits all of America. Our partners don't just change lives, they create excellent jobs that strengthen our communities. With the support of SoldierStrong and similar medical industry organizations, our partners continue to push the possibilities of technology forward and keep our country at the cutting edge.

Ekso Bionics and SoldierStrong
Since 2005, Ekso Bionics has been pioneering the field of robotic exoskeleton suits, or wearable robots, to augment human strength, endurance, and mobility. The company's first commercially available product, called the Ekso GT(TM) robotic exoskeleton suit, has helped thousands of people with paralysis take millions of steps not otherwise possible. By designing and creating some of the most forward-thinking and innovative solutions for people looking to augment human capabilities, Ekso Bionics is helping people rethink current physical limitations and achieve the remarkable.
Ekso Bionics is headquartered in Richmond, CA and is listed on the OTC QB under the symbol EKSO. To learn more about Ekso Bionics please visit  www.eksobionics.com.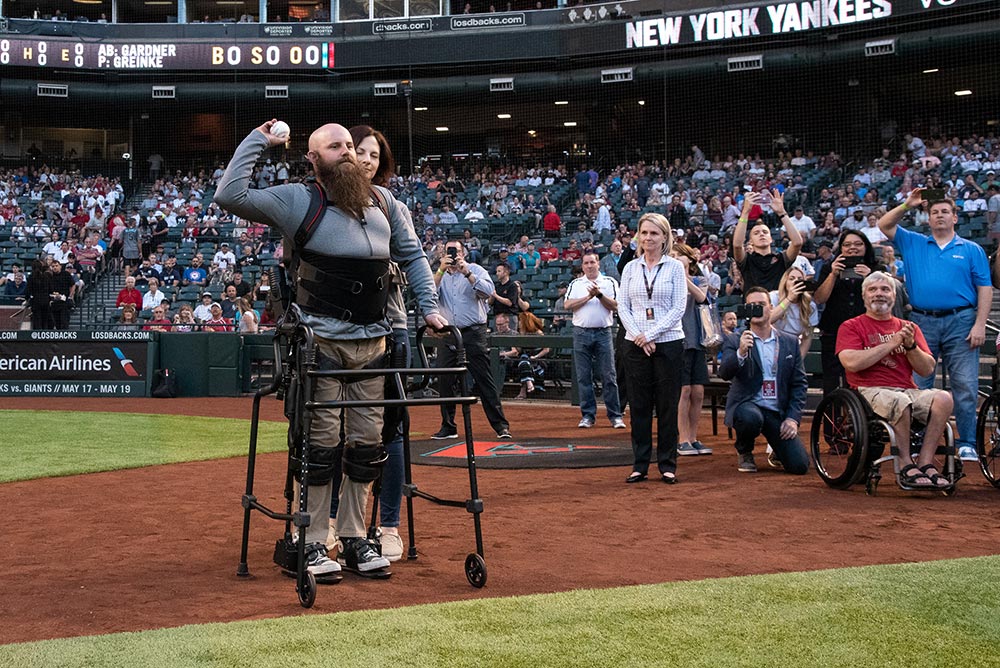 "The feeling of standing and walking again is indescribable. The first time I used the rehab suit was two years after my injury, two years of living life in a wheelchair. The first time I stood up and looked across the room, it was like reaching the summit of a mountain and looking down on the world. I am very fortunate to have received this gift from SoldierStrong, and even more fortunate to be able to experience looking down on the world from my mountain every day."
-U.S. Army Sergeant, paralyzed April 2011 by an IED in Afghanistan
iBot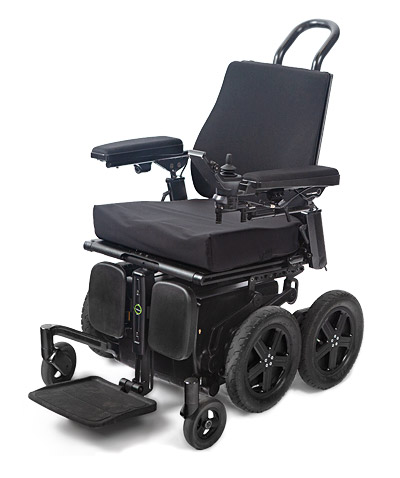 The iBOT® PMD utilizes advanced electronics, sensors, battery technology, and software so you can go where you want to go. Barriers to accessibility are too common out in the world. Overcome them with an iBOT® PMD.
Terrain Following: Maintain your seat angle automatically when going up and down slopes in 4-wheel mode.
Eye Level: Interact with others and move at standing height.
Stair Climbing: Depending on your ability, ascend and descend stairs independently or with the help of a trained assistant.
Remote: Simplify transfers by operating the iBOT® PMD when not seated in it. Great for moving the iBOT® PMD near a bed or couch, and for getting in and out of a motor vehicle.
Integrated Design: Sealed electronics, batteries, and motors mean your travels don't need to stop just because of a little rain or standing water.
Mobius Bionics and SoldierStrong
Mobius Bionics is a Manchester, NH medical device company that is bringing the amazing Luke prosthetic arm system to upper limb amputees.  The Luke Arm System was developed by DEKA Research & Development Corp. with the support of the VA and the Defense Advanced Research Projects Agency (DARPA) and the Revolutionizing Prosthetics program.
The Luke Arm is the first integrated prosthetic arm system cleared by the FDA, offering a powered shoulder, humeral rotator, and multi-articulating wrist.  It's configurable for different amputation levels from transradial through shoulder disarticulation and has up to 10 powered joints.  To make it more usable in a variety of environments, the Luke Arm even offers protection against light rain and fine dust.
The hand has multiple, preprogrammed grips and a sensor that provides grip force feedback.
Myomo
Myomo, Inc., a Cambridge, MA based medical technology company, is leading the way in extending myoelectric prosthetic technology to powered bracing (exoskeleton suit) devices that restore an individual's mobility. The Myomo technology was originally developed at Massachusetts Institute of Technology in collaboration with medical experts affiliated with Harvard Medical School. The company's mission is to improve function, mobility and restore independence for individuals who suffer from debilitating muscle weakness due to neuro-muscular disabilities.
The MyoPro® is a myoelectric arm orthosis designed to enable individuals to self-initiate and control movements of a partially paralyzed or weakened arm using their own muscle signals and thus help restore function. The MyoPro is custom fit to each user and is available at selected VA hospitals.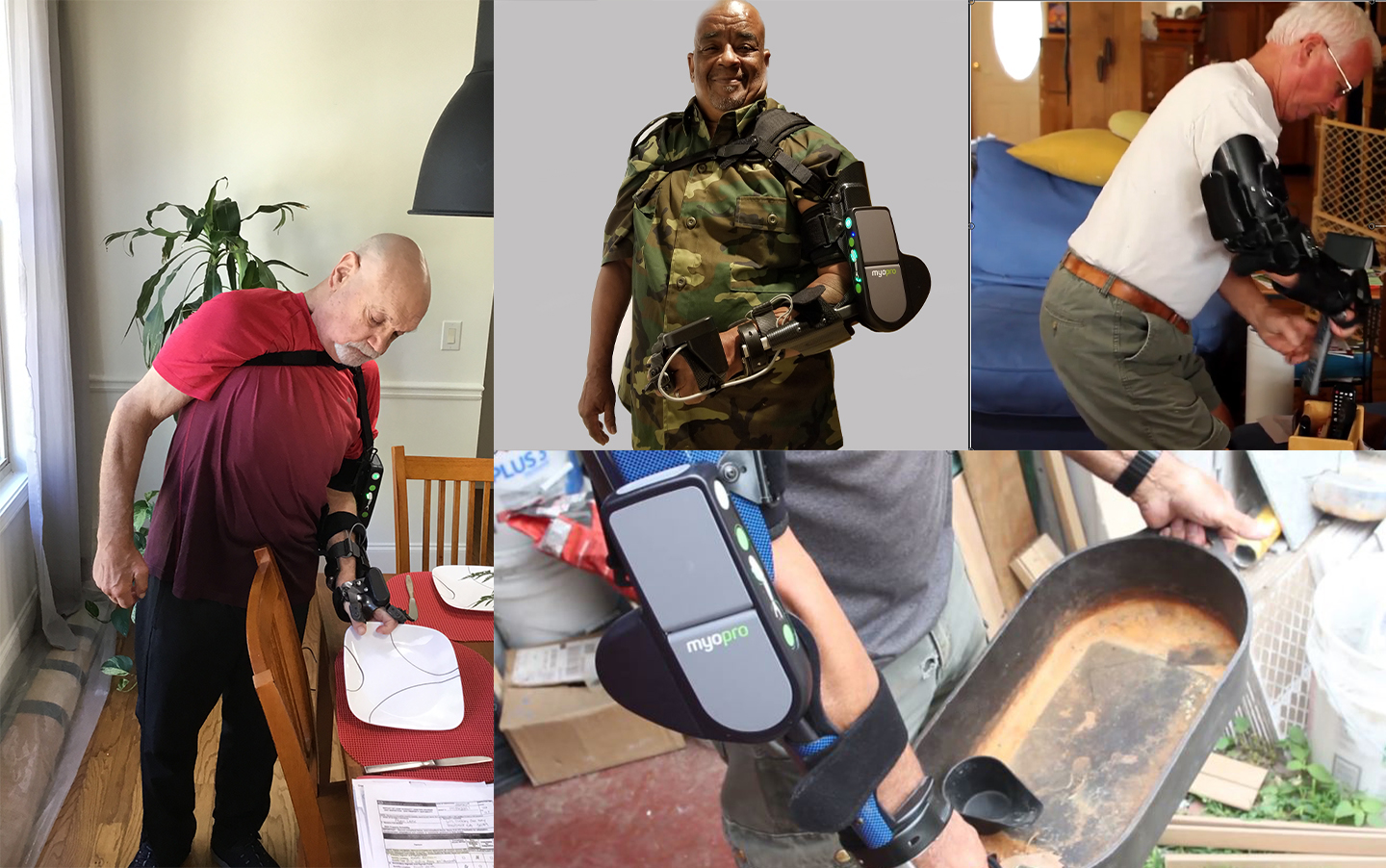 BionX Medical Technologies
Since 2006, BionX Medical Technologies has been committed to offering bionic solutions that restore normalized function and quality of life for people with amputations. More than 1,000 people have experienced the power of Personal Bionics through its BiOM ankle which has been commercially available since 2011. The BiOM ankle is the only prosthesis with powered propulsion for enhanced mobility. Only BiOM Personal Bionics offers a unique combination of power, control, and stability which allows users to get more out of life without thinking about their mobility.
Headquartered in Bedford, MA, BionX Medical Technologies was founded by Dr. Hugh Herr, Director and Principal Investigator of the Biomechatronics Group of MIT's Media Laboratory. BionX Medical Technologies received funding support from the U.S. Department of Veterans Affairs, the U.S. Army's Telemedicine and Advanced Technology Research Center (TATRC).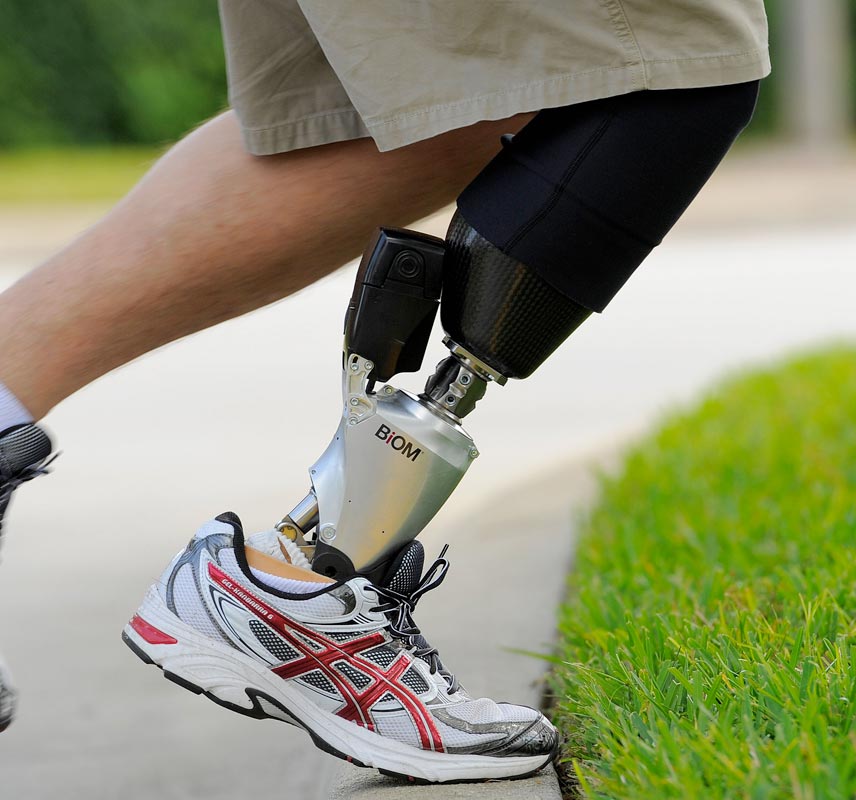 Who is it for?
Currently, SoldierStrong outfits former soldiers with lower and upper extremity paralysis with devices that enable them to walk and use their arms again. With medical clearance, the Ekso Suit can typically facilitate mobility for individuals with up to C7 complete, or any incomplete spinal cord injury who have the ability to transfer from a wheelchair independently. The MyoPro® myoelectric arm assists people with long term arm weakness or paralysis due to CVA, TBI, SCI, other CNS impairment. Full qualifications for MyoPro® candidates can be found here LINK. Our partners are continually refining their technologies to accommodate a larger range of conditions, and SoldierStrong is always searching for new partners, addressing combat-related injuries and furthering our goal of having the greatest impact possible.
We Need Your Help
EXCLUSIVE OFFER: Help further our mission to provide cutting-edge technology and revolutionary therapy to our nation's heroes!