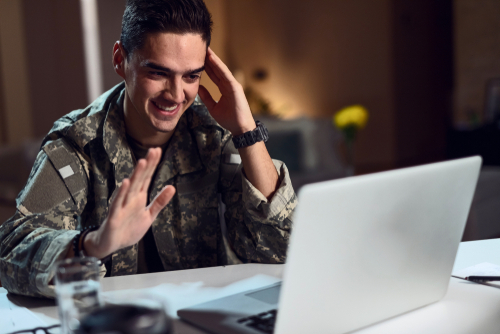 How Are You Taking Care of Your Emotional Well-Being During Mental Health Awareness Month?
By Chris Meek
May is Mental Health Awareness Month. Normally local events and in-person initiatives and screenings would take place throughout the country all month long in an effort to lessen the stigma surrounding mental health and provide much-needed resources. After all, our mental health is ultimately a vital aspect of our physical health.
Though in-person events may look different or may not be permissible in your state this month, it is still important that we use this time to reflect on our mental health and emotional well-being. This is especially true now, more than ever, as we wade through unprecedented times as a result of the pandemic.
Many veterans have found creative ways to maintain their stress, take their mind off of current uncertainties and to use it as an outlet for any pent-up emotions they may be experiencing. This includes everything from painting, bike riding, and knitting, to reading, cleaning and baking.
No matter what may ease your mind, it is important that as we move forward, we are able to identify what works the best for us and engage in those activities whenever feelings of stress, anxiety or depression arise.
Beyond that I think it's important that as we continue to check-in with ourselves and others, we are able to openly talk about mental health in a manner that is helpful and productive. One way to do this is to share what activities have worked for you to manage stress in order to provide ideas that may prove useful to others and to continue a constructive dialogue.
In the spirit of sharing, I have found that running on the treadmill several times a week has not only proven to be effective for maintaining my mental health, but also has had a positive impact on my heart, body and overall physical health.
In fact, running has been so effective for me that I started an event on the Facebook page of my non-profit ReachStrong, called BrainHealth Run, where I invite others to join me on a virtual run three times a week as a way to de-stress, nurture our mental health and to incite candid discussion about mental health related topics as we workout. (For those who are interested, you can follow along on our virtual BrainHealth Run on the ReachStrong Facebook page here).
There are also a plethora of other virtual activities that are currently made available to veterans. This includes everything from virtual yoga and meditation sessions that utilize military approved practices to treat trauma, all the way to self-care workshops for veterans covering topics ranging from mental health to employment counseling. And of course, telehealth mental health services have been made widely available and remain an effective option for many who seek one-on-one guidance. Any of these services could prove to have a positive impact on mental health and may be worth checking out for those who are seeking additional mental health resources at this time. Best of all, you can easily find more information about these resources through a quick Google search.
Let's empower one another this month to become more in-tune with our individual mental health needs and make more time for the activities that have a positive impact in our lives. And remember, we don't have to stop these activities once the pandemic ends. We can and should engage in them for as long as they continue to have a positive impact on our mental health.