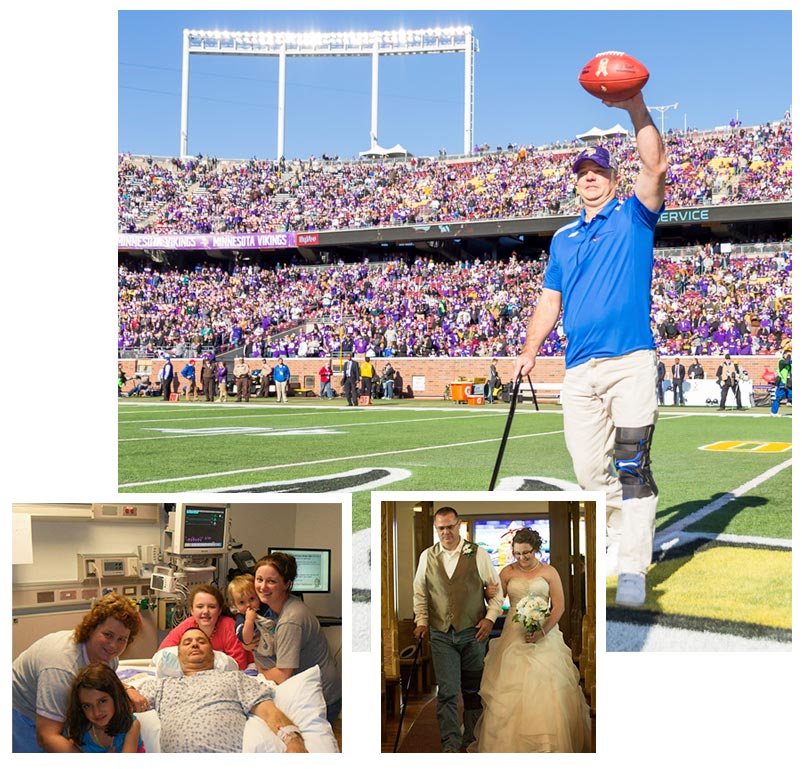 A person goes through life wondering if he ever made an impact on the people around him and if the life he lived was worth it. Seeing the outpouring of help and support we have received, I feel that I no longer have to ask myself that question. It is with that, and with gratitude to all who have helped us along the way, that I want to say how much my family and I love all of you.
As I was lying in bed on May 20th, 2014 at the Minneapolis VA Spinal Hospital with not much to do but a lot of time to think, I reflected on how the injury occurred and how I planned to move forward.
As most of you know by now, I was hurt pretty bad at my farm in Charles City the night of April 26th, 2014. I, with the help of another man, was fixing a broken water line in my front yard. We just dug the hole, and he was helping me to lower down into the hole with the backhoe. When I was in position, I was on the wrong side of the beam that the bucket attaches to. Once I moved into place, I told the operator of the backhoe to move the bucket out more because I couldn't reach the waterline; I made the split decision to lean between the bucket and the beam. It was this split-second decision that has changed my life forever.
Just as I grabbed the waterline, I started to feel my chest being compressed. That sound and feeling I will never forget. The bucket had closed on my chest just below my collar bone to just above my belly button. People have asked me if it was painful. I tell them it was the most surreal feeling I have ever experienced in my life. I had no pain, but if I live to be 100 years old, I will never forget the sound of the bone crushing. I can remember hearing my wife and daughter yelling, "You are killing him! You are killing him," to the operator. I remember their screams.
This first time it crushed me, it split my sternum in half and crushed all the ribs on the right side of my chest. After he released me, I looked up at my future son-in law-and calmly told him to call 911. The second crush shattered my T7 and T8. As I fell backwards into the mud, my legs, from the knees down, were still in the bucket. My soon to be son-in-law jumped down in the hole to be with me, as did my other son-in-law. I could feel my chest quickly filling up with blood, as he prompted the Emergency Crews to hurry up because I was dying-which I likely would have, if they had not been there to keep me awake. The last thing I remember is the rescue crew putting me in a neck collar and back board. Four days later, I woke from a medical induced coma in Iowa City after my first back surgery. Prior to this, the doctors at both Charles City Hospital and Mason City Hospital made many quick and life-saving decisions that allowed me to make it to surgery, including bringing me back three times. Staff prepared my family for the worst.
I finally became aware again April 29th in the ICU at Iowa City. When they brought me to, they told me they had completed the surgery and I had full mobility of my right leg, but my left leg was completely dead. Because I hoped to walk again, I gave them permission to go back in. After the second back surgery, I lost all the mobility in my right leg but gained some in my left leg. On May 9th, they fitted me with a chest protector. I can remember all the pain I had when they tried to set me up to get it put on. I remained in Iowa City until May 13th. When I left Iowa City on May 13th to fly to the Minneapolis VA Spinal Hospital, the doctors in Iowa City gave me less than 5% chance of ever walking again and communicated to the VA doctors that I would never walk again. My discharge date was set for July 15th.
My first goals were to be able to fully dress myself and use the bathroom on my own by the time my two months are up. After that, my next goal was to be able to walk again by the end of the year. When I arrived here in Minnesota, I had little strength in my legs and was told I'd likely never regain movement in my right leg. By June 10, I was able to raise my right leg four inches off of the bed and bend my toes. My therapists, Chris and Jim, were constantly monitoring my progress and adjusting my exercises. On July 2nd, with just two weeks of therapy left, we tried something "really stupid": standing up. I went over to the parallel bars with the help of Chris and Jim. After they explained what they wanted me to do, I did it. With a big smile on his face, Chris asked if I wanted to do something "really stupid." That day, I ended up walking 15 feet, and my therapy date was extended until August 28th.
This progress prompted more intense therapy. By July 27th, we were working toward removing the chest protector. The doctor couldn't believe I was walking. He was very impressed, even though it's only 50 feet. By August 28th, I increased to 161 feet-with the assistance of a walker. I was able to walk out the door of the hospital and dress myself. In time, I hoped to be able to go to the bathroom by myself. Chris told me he projected that I'd be using this walker until the first of the year, then transitioning to a four-wheeled walker for another 8-10 months before transitioning to a cane six to eight months later. In short, April 2016 was the soonest projected date to be walking with a cane. I told Chris this plan wasn't acceptable because I would be walking my daughter down the aisle in October 2015-either with the help of a cane or, ideally, on my own. Chris and Jim, along with other staff at the VA, gave me the tools I needed to succeed and prepared me to start therapy back home in Charles City on August 29, 2014. My new therapists, Dennis and John, immediately seemed like nice people. They worked diligently, and, on September 19th, I walked 25 feet with crutches.
On October 8th, Chris contacted me about maybe coming back up to the Minneapolis VA Spinal Hospital to try a new piece of equipment, an Exso Skeleton. It is a metal framework that goes around your legs, from your feet to your hips, and then connects to a backpack. It is designed to help a person stand and then walk. When he later contacted me set up travel plans to try this device the first week of November, he asked about accommodations and special equipment I might need during my stay. I told him I'd need crutches. After a long pause, he asked why. I told him I'd been using them for about three weeks. I reminded him that his initial plan wasn't good enough. He was shocked, but he said he should have known better than to doubt me.
On November 3rd, my wife and I were back in Minneapolis. We never thought we would make it this far. At this time, I could walk about 200 feet with a walker before switching to regular crutches for another 200 feet and then finishing 200 feet with forearm crutches. 600 feet. I was the first person there to get to try this machine and used it several times before returning home on November 7th. I was unable to walk with a cane on that day but later made it about 50 feet on November 14th and nearly 900 feet by December 5th. At this time, I could move from sitting to standing position about five times in a row. Still unable to walk unassisted, I could move my leg forward about three inches. On December 8th, I could do about 10 sit to stands and walk 20 feet. By December 12th, I was able to walk farther, get in and out of a car, walk 120 feet, unassisted, and go up and down stairs fairly well with the use of a cane.
"After my accident, the first time I stood up, the rush I got, the feeling I got, there's just no explanation for it. If that Ekso Suit hadn't pushed me forward, I probably wouldn't be at the point I'm at now."