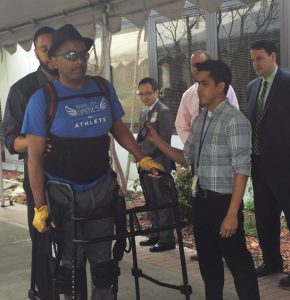 STAMFORD, Conn., March 16, 2017 (GLOBE NEWSWIRE) — SoldierStrong, a nonprofit organization dedicated to providing advanced medical technologies to veterans, today announced that it has teamed up with the Fraternal Order of Eagles to donate an Ekso GT™ exoskeleton to the United States Department of Veterans Affairs (VA) Long Beach Health Care System. The VA Long Beach Spinal Cord Injury and Disorders Center (VALBSCI) plans on using this cutting-edge device for gait therapy as part of its rehabilitation services. VALBSCI is one of the largest of the 24 SCI centers within the Department of Veterans Affairs. The donation ceremony will take place on Friday, March 17th, at 10am PT at the Tibor Rubin VA Medical Center.
"We are honored to come together to help our local veterans, and ensure they have access to the latest rehabilitation technology," said Jerry L. Sullivan, Grand Worthy President, Fraternal Order of Eagles. "As part of our commitment to helping others, we trust that the Long Beach VA will put the Ekso GT to good use to help as many veterans as possible."
The Ekso GT, made by Ekso Bionics® (NASDAQ:EKSO), is the first and only exoskeleton cleared by the FDA for use with stroke and spinal cord injuries from L5 to C7. The suit's patented technology provides the ability to mobilize patients earlier, more frequently and with a greater number of high intensity steps. With SmartAssist™ software, the Ekso GT is the only exoskeleton available for rehabilitation institutions that can provide adaptive amounts of power to either side of the patient's body, challenging the patient as they progress through their continuum of care.
"We would like to express our gratitude to SoldierStrong and the Fraternal Order of Eagles for their donation which will help our veterans," said Walt Dannenberg, Director of the VA Long Beach Health Care System. "Through our in-patient and out-patient programs, we care for over 700 veterans from across Southern California and the Las Vegas area, many of whom will benefit from this advanced rehabilitation therapy."
This marks the second donation that the Fraternal Order of Eagles and SoldierStrong have made together to a VA hospital.
"Partnering with the Fraternal Order of Eagles to make yet another exoskeleton donation makes us both grateful and proud. We are committed to supporting the VA healthcare system and providing our nation's heroes access to advanced medical technologies,"
said Chris Meek, co-founder and Chairman of SoldierStrong.
About Long Beach VA Health Care System
The VA Long Beach Health Care System provides delivery of health care to more than 56,000 Veterans throughout Southern California including the City of Long Beach and all of Orange County. VA Long Beach is also home to one of VA's largest Spinal Cord Injury Units and to the new Major Charles Robert Soltes Jr. O.D. Blind Rehabilitation Center.
About SoldierStrong
SoldierStrong, previously known as SoldierSocks, helps American patriots literally take their new steps forward. Through educational scholarships and by harnessing the most innovative technology in advanced rehabilitation, we help our returning service men and women to continue moving in the only direction they should know – forward. Nearly every dollar SoldierStrong receives goes towards direct support of American patriots so that they can re-acclimate to civilian life. Our organization works to remind those men and women who sacrificed so much that we are forever thankful.
CONTACT:
SoldierStrong
1127 High Ridge Road #124
Stamford, Connecticut 06905
Telephone: 888-898-3235
Website: https://www.soldierstrong.org
Facebook: SoldierStrong
Twitter: @soldierstrong