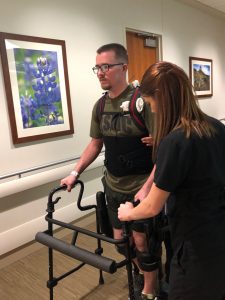 STAMFORD, Conn., Jan. 10, 2018 (GLOBE NEWSWIRE) — SoldierStrong, a nonprofit organization dedicated to providing advanced medical technologies to veterans, today announced that it will be donating an EksoGT™ exoskeleton to the Audie L. Murphy VA Hospital in the South Texas Veterans Health Care System. The donation ceremony, which will include a patient demonstration, will take place at the center on Wednesday, January 10th at 10 a.m.
Since the nonprofit's inception following the events of 9/11, SoldierStrong has now surpassed over $2.5 million worth of medical devices in donations that directly help injured veterans. This donation marks the organization's 15th exoskeleton donation, and 12th exoskeleton donation to the VA system.
"We would like to express our deepest gratitude to SoldierStrong for donating a robotic exoskeleton to the South Texas Veterans Health Care System's Polytrauma Rehabilitation Center and Spinal Cord Injury Center," said Dr. Blessen Eapen, Section Chief of the Polytrauma Rehabilitation Center. "This technology gives our interdisciplinary rehabilitation teams the ability to deliver state-of-the art rehabilitative care for our nation's Veterans and Service Members."
The EksoGT, by Ekso Bionics®, is the first and only exoskeleton cleared by the FDA for use with stroke and spinal cord injuries from L5 to C7. The suit's patented technology provides the ability to mobilize patients earlier, more frequently and with a greater number of high intensity steps.
"SoldierStrong is ecstatic to reach the milestone of providing over $2.5 million worth of cutting edge medical devices that directly benefit our country's injured veterans," said Chris Meek, co-founder and Chairman of SoldierStrong. "Being able to make this donation to the South Texas Veterans Health Care System at the start of the new year is particularly special, as we wish all of our country's veterans and active service men and women a healthy 2018."
About South Texas Veterans Health Care System (STVHCS)
South Texas Veterans Health Care System (STVHCS) is comprised of two inpatient campuses: the Audie L. Murphy Memorial Veterans Hospital in San Antonio and the Kerrville VA Hospital in Kerrville, Texas.  STVHCS serves one of the largest primary service areas in the nation and provides health care services for 96,000 unique Veterans.
The Audie L. Murphy Memorial Veterans Hospital (ALMMVH), named after the nation's most decorated World War II hero, is a quaternary care facility, which is affiliated with the University of Texas Health Science Center at San Antonio (UTHSCSA).  Comprehensive health care is provided through acute medical, surgical, mental health, physical medicine and rehabilitation, geriatric, and primary care services.  Comprised of a Spinal Cord Injury Center, a Community Living Center, a Domiciliary, and a Substance Abuse Residential Rehabilitation Treatment Program (SARRTP).  ALMMVH provides quaternary services including bone marrow transplantation, open-heart surgery, magnetic resonance imaging and positron emission tomography.  As a Level II Research facility ALMMVH has projects that include aging, cardiac surgery, cancer, diabetes and HIV.  The facility has one of three National Institutes of Health sponsored clinical research centers in the VA. In addition, the Geriatric Research, Education & Clinical Center (GRECC) is a "Center of Excellence." For more information, visit http://www.southtexas.va.gov/about/index.asp.
About SoldierStrong
SoldierStrong, previously known as SoldierSocks, helps American patriots literally take their next steps forward. Through educational scholarships and by harnessing the most innovative technology in advanced rehabilitation, we help our returning service men and women to continue moving in the only direction they should know – forward. Nearly every dollar SoldierStrong receives goes towards direct support of American patriots so that they can re-acclimate to civilian life. Our organization works to remind those men and women who sacrificed so much that we are forever thankful.