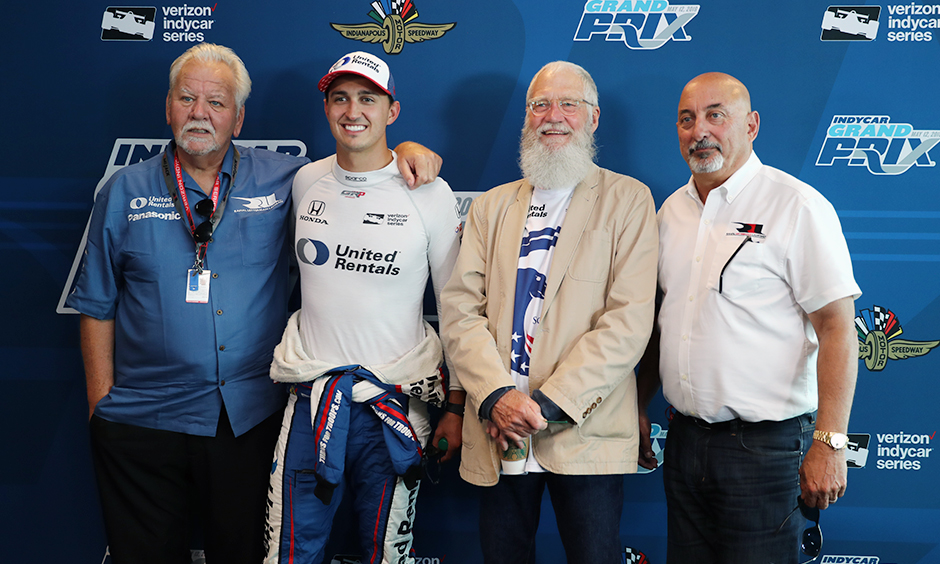 INDIANAPOLIS – Rahal Letterman Lanigan Racing will be making more meaningful turns at Indianapolis Motor Speedway this May.
A Turns for Troops drive that began in 2016 with United Rentals donating $50 for each lap Graham Rahal completes in the Verizon IndyCar Series was expanded Friday to apply to fellow Rahal Letterman Lanigan Racing drivers Takuma Sato and Oriol Servia. That's for Rahal and Sato in today's INDYCAR Grand Prix, then all three drivers in the 102nd Indianapolis 500 presented by PennGrade Motor Oil on May 27.
"I have spent a lot of time with wounded vets and I have spent a lot of time over the years working with programs like this, but I've never had one that's this in-depth," said Rahal, who was joined in making the announcement by team co-owners Michael Lanigan, David Letterman and Bobby Rahal (all pictured above with Graham Rahal), as well as Chris Hummel, chief marketing officer for United Rentals, and Stephanie Turzanski, executive director of SoldierStrong.
United Rentals, the primary sponsor on Rahal's No. 15 Honda, has donated $274,376 since 2016, which includes $22,376 for 445 laps completed in the first four races this season. The SoldierStrong program funds access to education, state-of-the-art rehabilitation programs and technologies that address a variety of combat-related injuries for military veterans.
Rahal's personal connection includes a special bond with two retired U.S. Army veterans, Sgt. Dan Rose and Staff Sgt. Dan Nevins. Rose, who met Rahal at the Sonoma Raceway race in 2016, is paralyzed but uses an exoskeleton to walk. Nevins, who became a close friend after meeting at a PGA Tour event, is a scratch golfer with the use of prosthetic legs.
"A lot of people just don't really realize how bad it can be," Rahal said. "We all know that troops go overseas, no matter what branch of military you're in, and sometimes you don't come back in the same condition you left in. But people don't realize what that means.
"It's easy for us to say, but a lot of people including myself will never understand what it's actually like to live that each and every day. Our team and United Rentals, we try to work together to just continue to make a difference for those people as best we can."
That poignant point was also made by RLL co-owner and late-night talk-show icon David Letterman, who typically amuses with his sense of humor and then drives home a message that's most important.
Letterman shared a story about a trip to visit veterans at Walter Reed Hospital in Washington, D.C., where he met U.S. Sen. Tammy Duckworth, a retired lieutenant colonel who lost her legs and part of an arm after being shot down in a helicopter. She joined Letterman visiting several wounded veterans, including a man who lost his legs below the knee. Letterman recalled how Duckworth told the wounded veteran how he was lucky because the injuries were below the knee and he'll be able to walk out of the hospital with the use of prosthetics.
This whole process that I witnessed, it makes you a little weepy when you're right there and the guy's family is sitting there and he's in the bed thinking, 'I don't have a life ahead of me. I'm 35 years old, I've got kids, I have a wife, I have a family, I have a responsibility, what am I going to do?'" Letterman said. "(Duckworth) comes in and within 10 minutes, she changes his life back to the sunny side, if you can use that expression.
That's the thing that I like about this affiliation is that awareness. You're not alone. Maybe you'll get the exoskeleton suit, maybe you won't, but there's a whole team of people who are looking out for you, a whole team of people who know about you and a whole team of people who are willing to contribute to help get you back on your feet."
With today's INDYCAR Grand Prix running 85 laps and the Indianapolis 500 set for 200 laps, the RLL drivers could add $38,500 to the Turns for Troops coffers this month. Donations from the public are also welcome at the Turns for Troops website, which promotes its cause as "Helping vets take their next steps forward. One lap at a time."