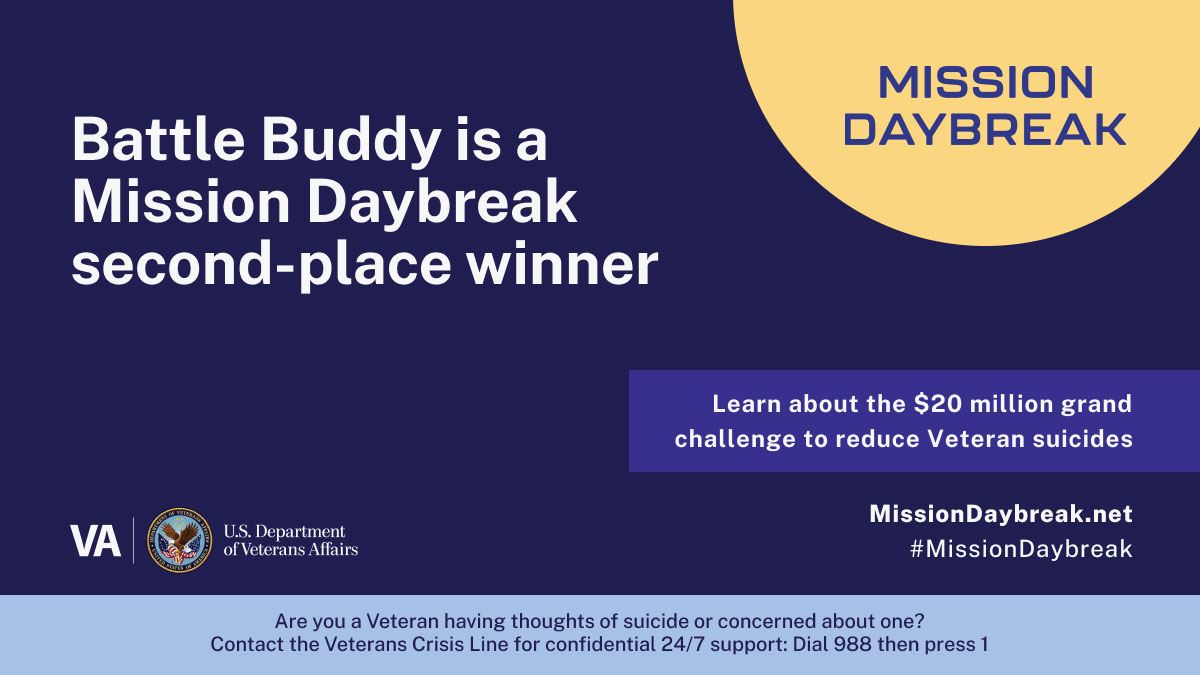 SoldierStrong has been named a winner in Mission Daybreak, a $20 million U.S. Department of Veterans Affairs grand challenge to reduce Veteran suicides. In Mission Daybreak, SoldierStrong partnered with the University of Southern California's Institute for Creative Technologies as part of team Battle Buddy. As a second place winner, Battle Buddy will receive $1 million.
SoldierStrong and USC-ICT were recognized for their efforts to advance the use of technology to prevent suicide through Battle Buddy, a virtual human-led mobile mental health and wellness application. This interactive, embodied conversational agent leverages content related to the VA's Safety Planning program embedded within brief daily check-ins with veterans. The Virtual Human will also allow veterans to opt-in to connect their wearable sensors to the app, leveraging sleep, exercise, vocal analytics and other sensed signals to their overall well-being.
Following Phase 1, 30 challenge finalists each received $250,000 and advanced to the Phase 2 virtual accelerator program, which helped them develop ambitious but achievable roadmaps for prototyping, iteration, testing, and evaluation. Technology partners supporting the accelerator included Amazon and Microsoft. In November 2022, finalists had the opportunity to speak about their solutions with challenge judges and representatives from VA, VSOs, Capitol Hill, and policy institutes at Demo Day, held at the Samsung Executive Briefing Center in Washington, D.C.
The multidisciplinary judging panel — representing a diversity of perspectives, from Veterans and clinicians to social workers and technical experts — evaluated submissions from the 30 finalists in Phase 2. The panel recommended the 10 winners based on the official evaluation criteria.
Following Mission Daybreak, VA may engage with select solutions through contracts, Cooperative Research and Development Agreements (CRADAs), or other partnership vehicles.
Visit MissionDaybreak.net for more information on the challenge.